Moonlight luminaires – Questions & Answers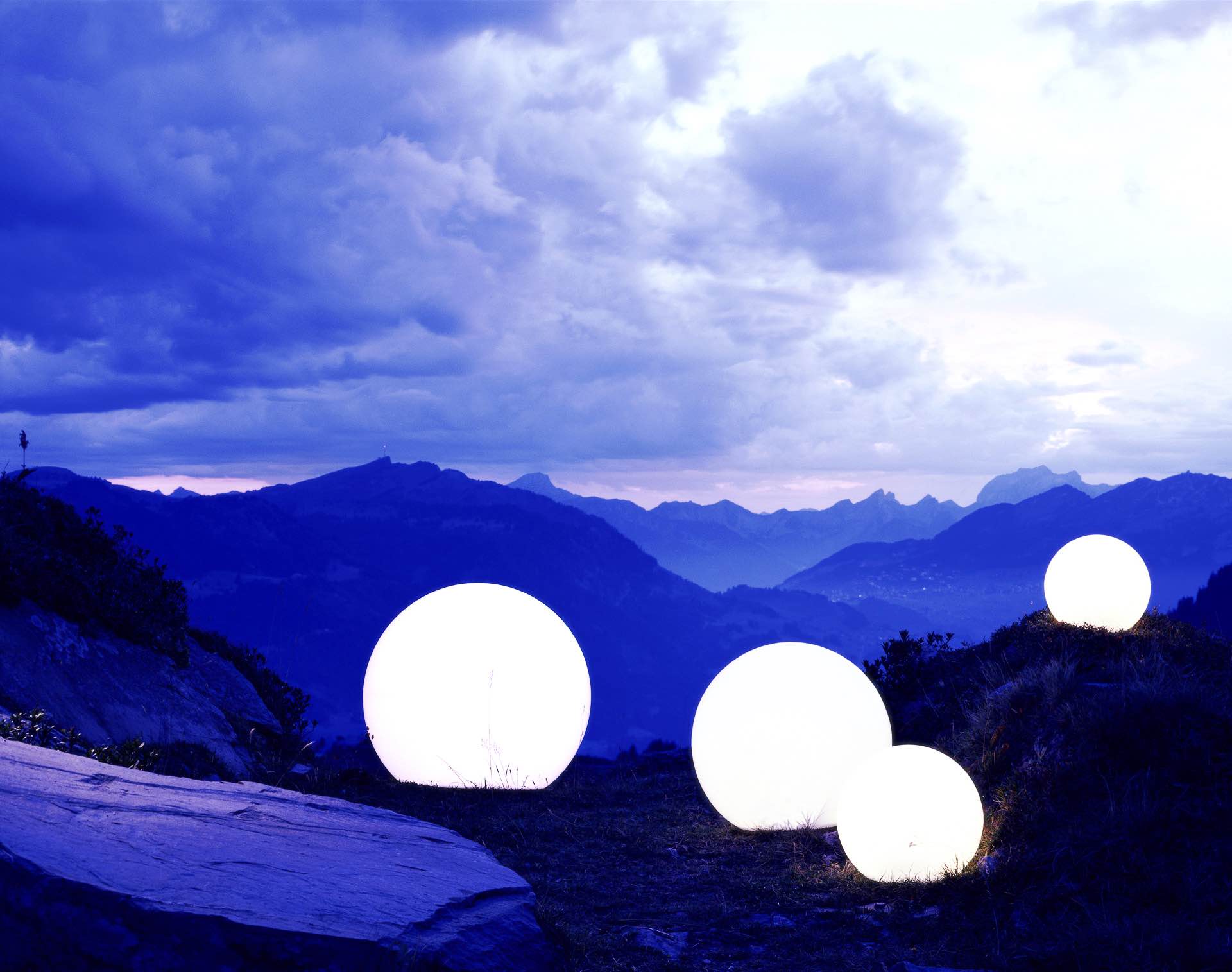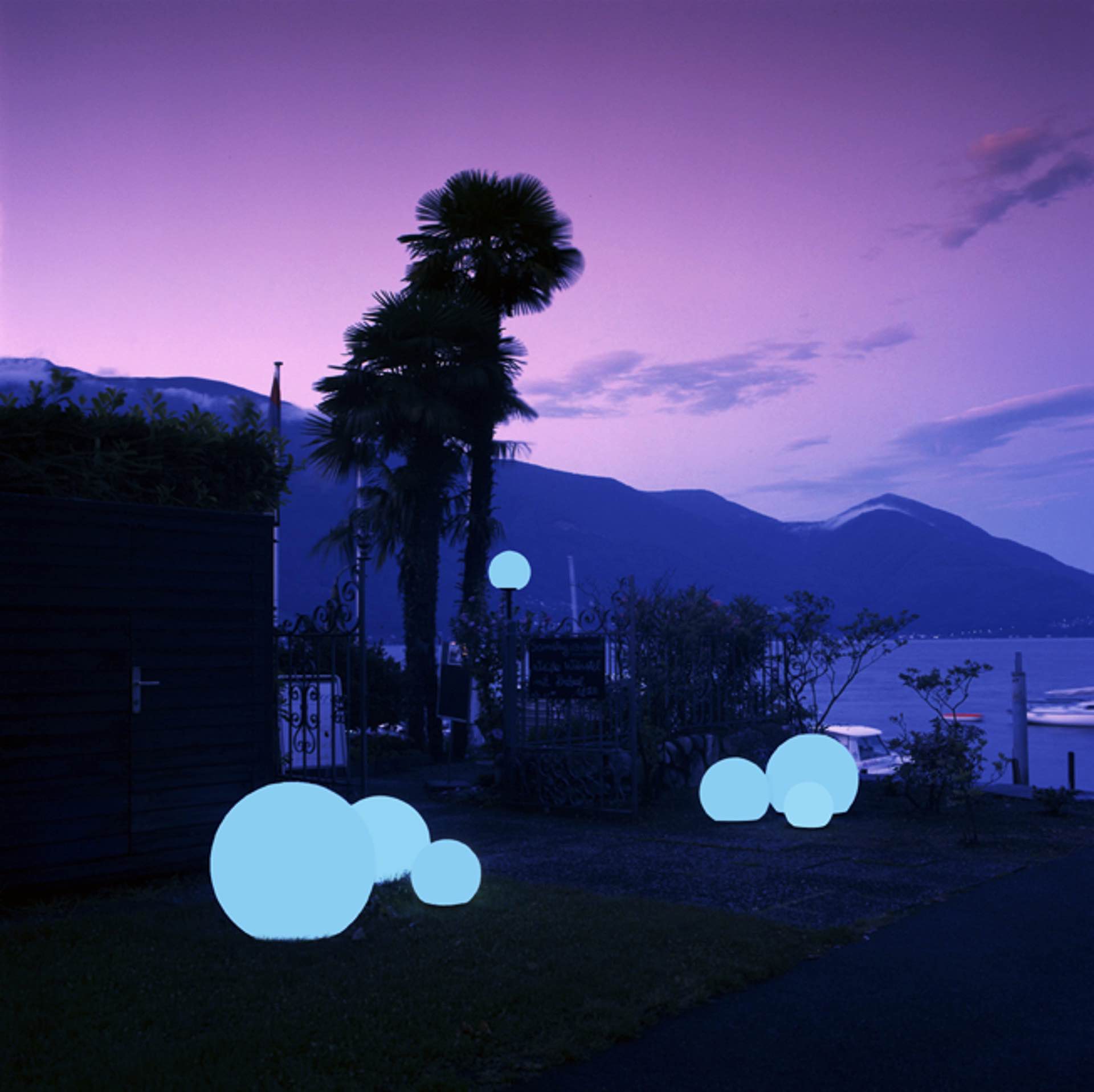 Moonlight luminaires are remarkably robust and require very little maintenance. To ensure that you can enjoy your Moonlight for years to come, we have summarized the most important questions and answers on this page.
How can I clean my Moonlight?
The original Moonlight lamps are made of high-quality polyethylene and have a very smooth surface. This means that very little dirt sticks to the polished material. Over time, rain and moisture can cause airborne contaminants to settle on the luminaire or moss deposits to form.
Basically, Moonlight luminaires are splash-proof, so they can simply be rinsed with water – or even cleaned with a high-pressure cleaner. If that's not enough, we recommend wiping them with a microfiber cloth. If necessary, a little washing-up liquid can also be added to the washing water. Under no circumstances should a cleaning sponge with scouring fleece be used, as this scratches the surface and dirt is more likely to be deposited on it.
How can a Moonlight be opened?
Moonlight luminaires are connected to the base by a thread. As part of the housing shape, the thread forms a firm, stable and virtually watertight connection to the base. This also results in the high robustness – at the same time, the housing can be easily opened by unscrewing the sphere.
To open the Moonlight luminaire, unscrew the sphere counterclockwise.
If the ball cannot be unscrewed, an overpressure or underpressure may have formed due to a temperature difference. In this case, it usually helps to place the light on a non-slip floor and turn the ball from above without much additional pressure.
If the globe still does not open, please contact us.
How to change the bulb of a Moonlight?
To change the bulb, simply unscrew the Moonlight globe from the base (see "How do I open the Moonlight?").
This will uncover the E27 socket (models for the USA use an E26 socket) and allow you to unscrew the old bulb and screw in a new bulb of your choice.
Please note:
If you have a model with a fixed LED bulb, the bulb cannot be changed. However, this applies only to a small series of lights, moreover, the integrated LEDs have a very long life.
Is a Moonlight lamp suitable for indoor, for wet rooms and as outdoor lighting?
All Moonlight lamps are permanently splash-proof and can be safely used outdoors and in rooms with high humidity.
Is my Moonlight luminaire LED suitable?
The original Moonlight luminaires have an E27 socket (or an E26 socket for the USA) and are powered by 220-240V. Therefore, you can operate all bulbs with the appropriate socket in it, regardless of whether they are LED bulbs, energy-saving bulbs or conventional bulbs.
Please note:
Some lights, such as Moonlight floating lights use a voltage converter from 220 V to 12 V. In this case, you will need a bulb with an E27/E26 socket that is designed for a low-voltage DC voltage of 12 V.
Smaller Moonlight sizes may be too low or too narrow to accommodate large bulbs due to their design. We will be happy to tell you which bulb will fit your Moonlight fixture.
Did we answer all your questions?